Having trouble Booking your weekend?
Here are a few free books to get you started. Make sure to leave a review if you read any of them! If you are an author and would like your book here, contact us and let us know. Books listed may only be free for a limited time, always check the price before downloading.
Historical Mystery
"Mystery Thriller Horror Novel.
In 1788 the infamous Thomas Olocher is finally caught and sentenced to death for a heinous string of violent murders in Dublin. Women would soon walk the streets again without fear. But on the night before his execution, Olocher takes his own life, unleashing an even darker monster to lurk the streets in his stead.
Witnesses can hardly describe the large black creature, but what is left behind of its victims speaks volumes. Impossibly large teeth and claws shredding through skin like paper. Hooves crushing bones. Can such a thing exist?
The beast earns the name of 'the Dolocher' and while it roams free, no one is safe."
"The first Aristide Ravel mystery:
In the icy winter of 1786, in the final years before the French Revolution, hunger, cold, and seething frustration with the iron grip of France's absolute monarchy drive poor and rich alike to outright defiance. Slums, fashionable cafés, and even aristocratic mansions echo with discontent and the first warning signals of the approaching turmoil of 1789.
Paris's cemeteries are foul and disease-ridden, but no one, including penniless writer Aristide Ravel, expects to find a man with his throat cut lying dead in a churchyard, surrounded by strange Masonic symbols. Already suspected of subversive activities, Ravel must now clear his name of murder. His search for answers amid the city's literary and intellectual demimonde—with the aid of friends who may not be all that they seem—leads him into a tangle of conspiracy, secret societies, royal scandal, and imminent revolution, which grows only more complex when the corpse disappears . . ."
"It is 9:00 p.m. at Carley, Ontario, on May 22, 1939.
Thousands of people perch on a slope beside the Canadian Pacific line, waiting. Flames of bonfires lick the heavens and illuminate the tracks. This farming village is destined to be the most important place in the British Empire for eight minutes.
In the railway station, a telegraph key announces the approach of a train—that carrying His Majesty King George VI and Queen Elizabeth.
A whistle echoes through the hills. Bystanders cheer. Youngsters wave Union Jacks. A headlight glistens along the rails. War veterans snap to attention. A steam locomotive, adorned with shields and crowns, rounds the bend. As the train slows to a stop in the firelight, scarlet-coated Mounties emerge from vestibule doors. Their Majesties emerge onto the observation platform of the rear car. Cheers and cries of God Save the King! ring out."
"Don't kill a copper cos it's a hanging job.
The tale is set in London on the eve of World War 2 at a time when hanging was the penalty for murder and the cut-throat razor, the weapon of choice for settling differences within the criminal fraternity.
It's 1939 and Hitler is about to invade Poland and kick off the Second World War, but Foxy has more important things on his mind. One the best in getaway drivers in the business, he'd got out of the business before Detective Inspector Hawker had managed to nab him, but having been pressured into taking part in a bungled bank robbery, he now finds himself at risk of a formal introduction to the hangman if caught. For Foxy comedy and tragedy have always gone hand in hand, and this day is no exception as he plays hide and seek with the forces of law and order in the streets of London and the leafy lanes of Hertfordshire, doggedly keeping one step ahead thanks to his driving skills."
"At 10:42 p.m. on March 2, 1962, Katherine Colleen Ferguson arrived at the corner of Broadway and Seventh Avenue in New York City after a journey of 128 feet, straight down. Not belong before she had warned Thomas Andrew Curry about a grand jury investigation of stock manipulation involving a matter they had both worked on while clerking for the same law firm. And not long afterward, Thomas and Sandrine Cadette find Harrison Tyler's body in his Greenwich Village garret, in the shadows of a savagely vandalized satirical painting he had almost finished. These two mysterious deaths in the intersecting worlds of fine art and high finance both implicate the small Manhattan law partnership formed by Thomas's father, T. Graham Curry, and his mentor, Theodore Furst. That's how Thomas and Sandy find themselves in the middle of an investigation that his Manhattan attitude and her French flair will take in provocative directions."
Julia Thom is new to the small town of Horse, but she's not new to trouble. When reclusive watchmaker James Hunter is beaten, but has no memory of the event, Julia vows to find the culprits. Even if Hunter hadn't saved Julia herself from being assaulted, she would still be on the case; meddling helps keep her focus off her own complicated life. Julia is fast becoming a thorn in Police Constable Jack Merrick's side and he flounders as he tries to figure out how to deal with such a headstrong woman.
---
Pin this post to read it later!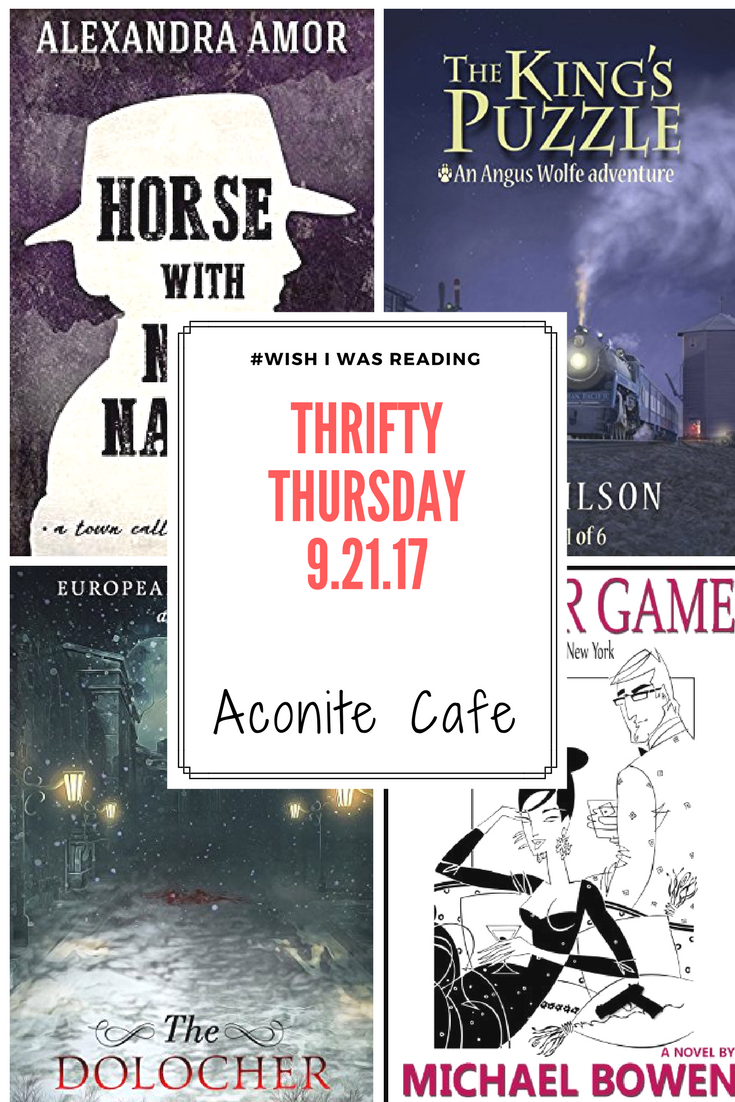 Save
Save