As an indie author, participating in a group takeover can be a huge asset to any marketing plan. It is often an opportunity to get your books in front of target readers that only costs you time and energy. If set up right, it can end with super fans flocking to your series and help you build a stronger base.
Let's dive into making your next takeover a hit!
What is a group takeover? Many groups on social media, like Facebook, let authors come in and post during a specific timeslot. The authors are able to essentially takeover the group as if it was their own. Posting about their books, and hosting giveaways or throwing a fun party that the readers can participate in. While just posting in the group will get your book seen by many readers, crafting the right posts will get it seen by the most members of the group possible.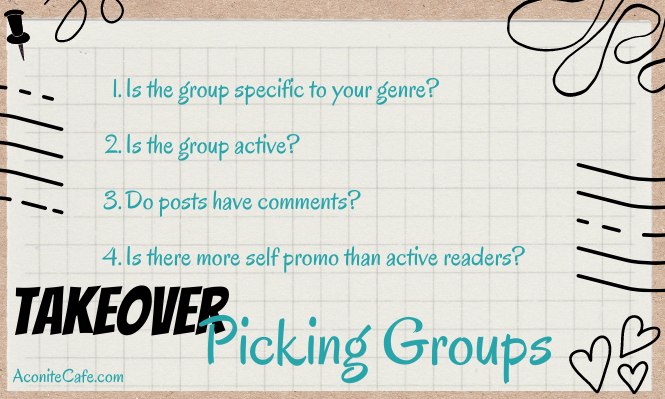 Takeover the right groups.
Your time and energy is your most valuable asset. With each marketing endeavor that requires time and energy, it's important to weigh it against what you would get done if you poured that time and energy into writing the next in series. Will you gain enough exposure to be worth putting your efforts into the activity?
This can be as simple as these steps:
Make sure the readers in the group are your target reader.
Check if the group has more authors than readers.

It's easy to try and market your books to other authors, but in the long run it's not worth the effort.
Fellow authors are not your go-to target readers.

Is the group an all genre group? It's not likely to be worth your time if so.
Make your time count, find the right group that is filled with active readers of your specific genre.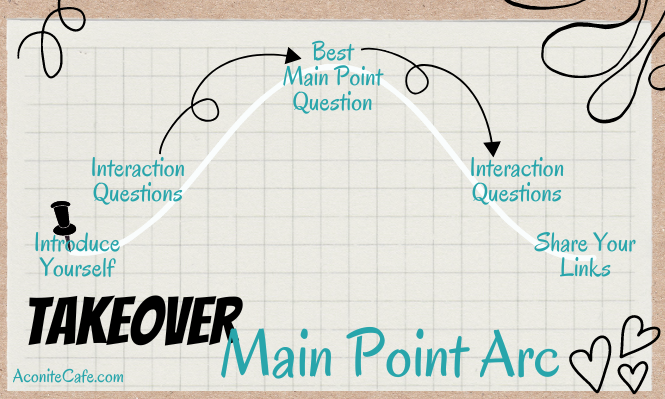 For most groups, readers do not flock to the group at the time a takeover is starting. They will most likely see the posts in their feed, and choose to interact with them from there. Because of this, it's important to make sure the top few lines of your posts are engaging, and that your image draws them in.
Even if they only see one post from a takeover, it needs to be one that will captivate them. Your takeover should have three parts: Introduction, The Main Point, Conclusion. Just like your books, your takeover is an arc. Introduce yourself, ramp the readers up, then bring them back to why they want to make you their next favorite author. Plan with an ideal reader in mind, that has never heard of you but loves books similar to your books.
Introduce yourself. Keep it short, too many words can lead to skimming.
Introduce the point of your takeover, if there isn't a defined point, create one.
Keep your Main Point posts engaging. Make each one an interaction point. Questions, Giveaways, Games.
Bring it back to the point of your takeover.
Sign off with where readers can find you in the wild.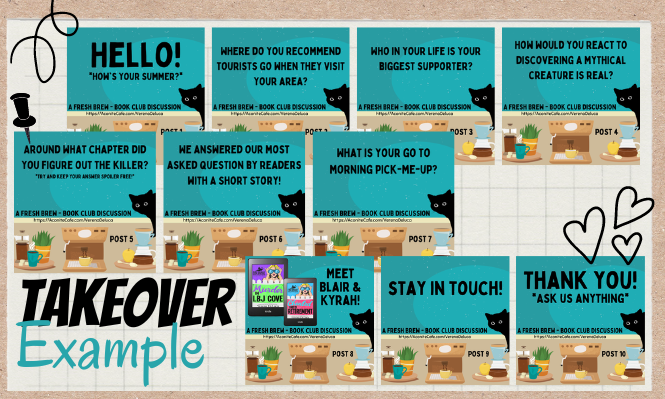 Build images that dazzle.
The images you use are the main way readers are going to engage with your takeover. This can be one of the most daunting tasks for an author that isn't design savvy, but Canva makes it easy. They offer templates, and tutorials that can allow any person to fake it when it comes to designing engaging images.
Take a minute to think of your own feed, when you see an image that is just a book cover, or posts that are just words, how often do you scroll past it and assume it's an ad, or not something you want to engage in? Don't let your chance to engage as many readers as possible slip past because your images aren't clear about why it's in their feed.
Label your images with:

The Post Number: 1/5 or Post 1.

This let's the reader know it's an event. Signals them to seek out the other posts.

The Event. "Author Name Group Name Takeover" "Book Name Launch Party"

This let's the reader know they are getting exclusive event content. It stands out in their feed as they are doom scrolling.

A Theme.

When a reader scrolls past 3 images that have a similar feel it gives them pause to check out the event.
In our Cozy Mystery Reader Tribe group, takeover posts that are links or book covers, or just self promo wording are often reported as spam. Don't let your posts feel like spam to the readers of the group. Creating engaging images can help the readers understand what the image is for at a glance without having to work for the information.
I created a Book Club template in Canva, feel free to head over and edit it for your next takeover!
2023 Cozy Mystery Tribe Book Club Discussion Template
by Sabetha Danes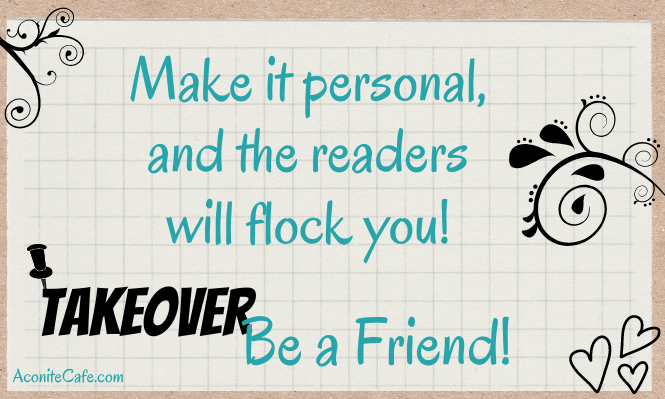 Spend the time to interact.
Each comment that happens on one of your posts tells the algorithm that people want this content. When you spend the time to reply to every reader, you are helping spread the post to more group members feeds. Use this to your advantage. With your Main Point posts being engaging, it makes it easy for you to go in and reply. Before your takeover starts, come up with a list of generic responses so you aren't stressed in the midst of the chaos thinking of replies.
Imagine what it would feel like to participate in an author takeover hosted by your favorite author. How cool would it feel to have that author be friendly and engaging with you on a personal level? You are your brand, your replies make the difference in capturing super fans.
---
I hope this post helps your next takeover turn into a successful fan generating endeavor. If you need ideas for your next takeover I will continue to update the list below as I come across them. Want to celebrate or commiserate with authors who get it? Join one of our groups!
Book Club Takeovers
This article has a great list of book club questions.

Who is your favorite character and why?
What do you hope happens in the next book of the series?
What surprised you most in this book?
Were you shocked by the culprit?
Would you like to live in this community? What appealed to you?

Giveaway the next in series.
Create trivia questions.
General Takeovers
This article is fantastic on creating engaging questions, take their base and tie it into your series.

"What is your favorite park? Gina loves taking her dogs to the Main Street Dog park in the series x. I based this park of my local dog park: insert link."

Create questions based on plot, characters and town specifics.
Add in giveaways related to your series or book. Free books, ebooks, paperbacks or reader swag.
Create questions based on your interests, connect to the readers on a personal level.

When I'm writing my go to drink is diet coke, what do you drink the most?

Make up games.

This or That
Name types of "insert series related thing"
Name things that start with a "insert first letter of main characters name"