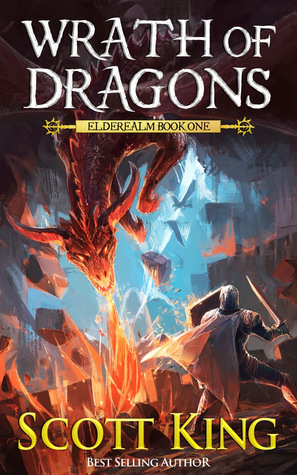 Wrath of Dragons
Elderealm Series
by Scott King
DRAGONS ARE RAVAGING THE LAND!
Centuries have passed since the lost races vanished. Now the dragons have returned to bathe the world in fire.
Towns burn. Cities fall. War rages.
A magician's ward sees his chance to be a hero.
A runaway princess seeks a way to save her people.
A rogue dragon wants to be left alone.
They are misfits bound together by fate's cruel touch and pursued by a shape-shifting assassin who wants to tear them apart.
WRATH OF DRAGONS is the first book in an epic fantasy series packed with unforgettable characters, twisted creatures, and fast-paced action.
Stop the darkness and start your adventure!
Rating:5/5
Review:
While dragon books seem to be all the rage right now, this is definitely one worth reading! I had a hard time putting it down! Wrath of Dragons flips the script on what you would think to be typical dragon book traits. I fell in love with Alex, Doug and Carters mismatch gang more and more as their journey played out. Scott King does a fantastic job at building this world without making you feel overwhelmed with all of the new information. His version of fantasy, with a twist of realistic personalities leaves me anxiously waiting for the next installment.