Jess and Keith Flaherty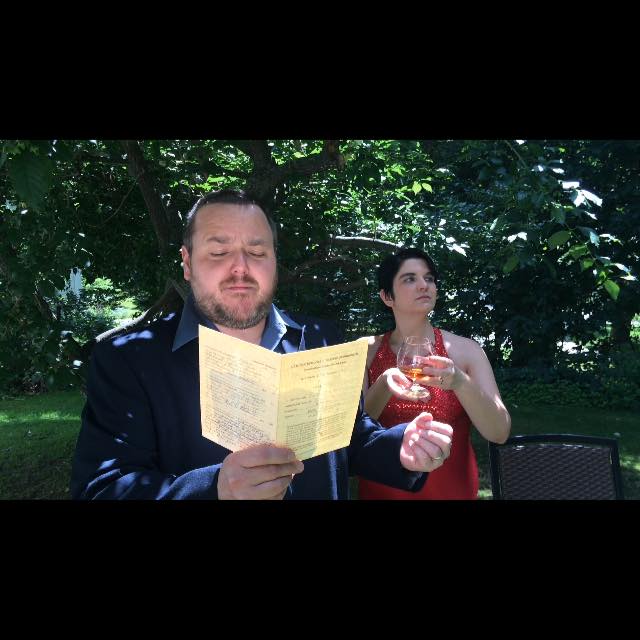 Facebook ~ Twitter ~ Instagram ~ Goodreads ~ Website
---
Must Read by this Author:
---
Where are your books sold?
Amazon
Crimson Cloak Publishing
Ingram
Northshire Bookstore
Barnes and Noble

Which book of yours should someone reading this buy first?
Always Darkest. We have some short stories available in our universe through anthologies, but I think our first book where you will meet our main characters Mal and Ben is the best place to start.
Describe your perfect day.
I get up in time to enjoy a cup of coffee and the dawn together. I have some time alone to read and take care of my social media. Then my husband would join me and we would have breakfast together and talk about our writing plans for the day. After our meal, we separate to work on our writing. We take walk and stretch breaks, periodically. We break at lunch and prepare the meal together. Over lunch, we share our progress, problem solve and just enjoy each other's company. Perhaps we take a walk through the woods near our house with our two boys and maybe our dog. Until dinner, we write again and then cook together, maybe even including the kids in the meal prep. We all eat together. After dinner, we could take another walk. Then we might exchange our writing with each other for critique or in order to collaborate more. We would watch a movie or some TV for a bit, have a cup of tea, read for a while and go to bed. I just pretty much described our Sundays, which is our usual day off together. I'd love for all of my days to look like that.
Coffee or Tea?
Coffee to start the day, and tea to end it. Describe your writing routine. I honestly just sit down and write. I think better at my keyboard. Some days I am working on expanding our universe, others I'm dabbling with short stories or flash fiction, and some days I toss all my serious work and write fan fiction. If I'm home, I'm writing.
Name 5 books that aren't yours but people should read.
The Name of the Wind by Patrick Rothfuss
Lisey's Story by Stephen King
Blackwood Farm by Anne Rice
Fight Club by Chuck Palahniuk
The Hobbit by J.R.R. Tolkien
How many books do you try and read a year?
I don't have a target number, but I read for an hour a day, no matter what, and often for longer than that.
What genre do you write in?
Paranormal Fantasy
What genre would you like to write in one day?
I love writing paranormal fantasy. It has a little bit of everything.
Do you read your book reviews? How do you process them, good vs. bad. Do you give some more weight than others? Like Amazon vs. Goodreads reviews.
We definitely read our reviews. It's important to know what resonates with readers and what doesn't. We tend to give more weight to reviews that are specific about what they liked or didn't like, rather than just "This was awesome," or "I hated this." Amazon and Goodreads are both good places to connect with reader preferences.
Does your family support your career as a writer?
They are so supportive. Since Keith and I write together, it's become part of the fabric of our marriage. And our kids, when asked what their parents do always answer that we're writers before they talk about our other work.
What is your favorite Character you've written?
Ben Brody, also known as the demon Ronoven. How long were you a part-time writer before you became a full-time one? I have been writing since I was a child. My first novel came out late this summer, so it's not a full time job yet, but I believe it will be. What does literary success look like to you? Success will be being able to write full time and getting to engage with my readers online, at conventions, and maybe, if all goes well, at the movies.
How many unpublished and half-finished books do you have?
A couple. Until recently, I've been more of a short story writer. But now that I've had a taste of novel writing, I'm hooked.
What is your patronus / Howarts House / Ilvermorny House?
I'm a total Hufflepuff. And my patronus is a white lion.
Advice for new Authors: What's the best way to market your books?
Social media, local book stores, put your sales channels on everything you send out. And talk to people! Engage with fans. Fans will tell others about your work .
If you couldn't be an author, what would your ideal career be?
I co-write with my husband. Both of us work at other jobs, but writing is where we both want to be. We can't imagine not writing. I need it like water or air, myself.
Do you Indie Publish or Traditional Publish? Explain if you'd like.We are published through a small house called Crimson Cloak Publishing. Due to their size, we face many of the same challenges as a completely indie author, but we do have the benefit of professional editing and cover design.