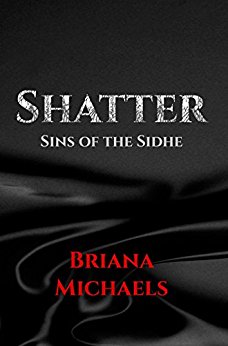 Greed comes in all shapes and sizes, and this particular greed is tall, winged, deadly, and out for more than just blood. When Rowan Hayes, a soul-seer who struggles to keep her gifts hidden in an attempt to have a normal life, is forced to spill her secrets in a mission to kill the creature she accidentally set loose, scores must be settled and balance must be regained. As an artist whose passions go well beyond her studio, there is a darker side to this bright beauty, and an evil out there has its eyes on her, eager to make her his queen. Ties are made and blood is spilled when Rowan is pushed well beyond her human limits and though she may be strong and full of fire, there is more than one creature drawn to her flame. Like in every battle, lives are lost and freedoms are gained, but what side will Rowan choose to be on? For make no mistake, she may have light and brightness in her, but the darkness feels like home.
---
Where are your books sold?
Which book of yours should someone reading this buy first?

SHATTER. It's the first in the series and is the jumping off point for some of the other characters in other books; so if you haven't met them from the beginning, you'll miss out on important stuff!!
Describe your perfect day.

Raining, no responsibility, a warm fire crackling, and my characters and I spending quality time with the laptop. This is the stuff dreams are made of.
Coffee or Tea?

Yes… That's what a dirty chai is for =-)
Describe your writing routine.

Well that depends on the day and what my muse is feeling up to. It's usually one of two ways: 1. Get up before the sun and start writing. I don't stop for anything – including lunch – and I end when the house is dark and sleep is calling to me. OR 2. I get up, do the mom/wife thing, write for several hours once the house is empty for the day, end when the family gets home from school and work, and then for the rest of the evening I wonder if I truly have the self-control it takes to NOT get back on the computer for the rest of the night. Writing is a dangerous obsession.
How many books do you try and read a year?
What genre do you write in?
What genre would you like to write in one day?

I live, breathe, and fantasize about paranormal romance so I have zero plan of writing anything else. Give me dark, dangerous, and alluring any day of the week. But I have to say, I envy those who write Historical Fiction. The work and dedication that goes into the research alone astounds me. It's just amazing.
Do you read your book reviews? How do you process them, good vs. bad. Do you give some more weight than others? Like Amazon vs. Goodreads reviews.

Yes, I have to admit I read the reviews. Both good and bad seem to have the same impact on me: HEAVY. It doesn't matter where the review comes from (Goodreads, Amazon, or even a personal message that a reader sends to my email) I read and consider their words carefully. Some have wonderful advice (even if it's hidden in a complaint) and I listen to what they have to say. But for the most part, I have been very fortunate to have some AMAZING readers who boost my confidence levels up to maximum power and my skin has certainly gotten thicker over the course of my writing career. It still hurts to read a bad review, but I knew going into this writing thing that my story wouldn't be everyone's cup of tea. That's okay. For those who do love it, they love it with the same passion I had while writing it. That alone gives me the courage to keep writing.
Does your family support your career as a writer?

Absolutely! My husband is my biggest supporter; he does all the marketing, graphic design, website and promotions! And my kids are super understanding that when Mommy has an idea, it has to come out asap or she'll forget it! They'll hop off the computer in three seconds flat so I can type it up =-)
What is your favorite Character you've written?

That's tough. Rowan is my favorite because she's a hoot, but we don't always get along. I push her to the max and it's not always appreciated. Ruark is the one who takes my breath away, though. With everything he's been through, to see his story unfold still makes me feel all the feels.
How long were you a part-time writer before you became a full-time one?

I guess you could say I became a full-time writer immediately. Once I had decided to write a book, I sat down and started to type. Two weeks later, I had my first draft complete. It's been an everyday/all day thing since day 1.
What does literary success look like to you?

My personal success is slow and steady, which is just fine for now. I have two little ones that I want to focus on before I start my dreams of book tours and major events. Will I ever even get to that level? I truly hope so. But I've seen a steady increase in sales and success since I published my first book two years ago. Since I'm still small time, I'm thrilled with one book sale every other day to be honest with you. That's an amazing thing – to sell 1 book. There's so many stories out there, written by amazing authors, it's a literary success to just hit the publish button and have someone buy one of my books. As for literary success in general – the biggest accomplishment isn't publishing your book. It's sitting down and casting away your fears and doubts of what and who you are… and WRITING. Whether it's a sentence, a chapter, or half a novel… that's success, my friends. We are our own worst enemy when it comes to what we think we can do. Courage comes from within, so banish some of that self-doubt and insecurity to make room for your bravery.
How many unpublished and half-finished books do you have?

I'm almost finished the first draft of my fifth book.
What is your patronus / Howarts House / Ilvermorny House?

I want to say Griffindor, but the sorting hat would say I'm a Slytherin with the way I love darker things. My patronus would be a fox.
What's the best way to market your books?

I've had the most success from readers spreading the word to their friends, family, etc. I've tried ads, promos, and giveaways, but they aren't as successful as a few good cheerleaders telling others to read my series.
If you couldn't be an author, what would your ideal career be?

An Events Planner again. I loved that job.
Do you Indie Publish or Traditional Publish? Explain if you'd like.

Indie Publish. I love the freedom of writing what I want, when I want, and I don't have the guilt of not meeting someone else's expectations. Meeting my own is hard enough! I've had opportunities where I could have gone with traditional publishing, but for now I love where I am with just me, myself, and I. Maybe that will change as I grow, but for now, I LOVE being an Indie Author.
Save
Save
Save
Save