Ash Gray
---
Must Read from this Author: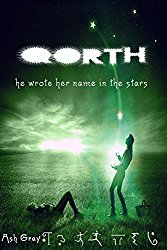 It is the year 3017 A. F., and Cameron is a neo-cowgirl living contently on her farm beside the sea in the dangerous, post-apocalyptic deserts of Arizona, a world where Earth has for the most part been swallowed by the rising sea levels after what became known as The Great Flood. Cameron survives the harsh life in the Outer Zone by casually shooting those scavengers who threaten and bully her. With biker gangs roaming the desert sands, the world has made her rough and ruthless, and it is her rough nature that nearly kills the gentle and compassionate alien who washes up near her farm. Through Qorth's love, Cameron learns to soften her frayed edges. But will Qorth learn to engage in the casual cruelty that is his only key to surviving her world? Can beautiful things survive a cruel world?
---
Where are your books sold?
Which book of yours should someone reading this buy first?
Describe your perfect day.

I write a book that I have actually fallen in love with, and then someone else falls in love with it too. It's rare that this happens for me, though, to be honest.
Describe your writing routine.

I've said in interviews that I have no real routine. The truth is I kind of do. I do things to sooth all my senses just before I write. I burn incense to perfume the air. I listen to soothing music. I shut out all noise. In this way, I become very focused in what I'm about to do. I don't *always* do this stuff, but sometimes it helps.
How many books do you try and read a year?

I write way more than I read now. I might read two books a year.
What genre do you write in?

epic fantasy, science fiction, romance
Do you read your book reviews? How do you process them, good vs. bad. Do you give some more weight than others? Like Amazon vs. Goodreads reviews.

No. My policy is that I do not read my book reviews. Reviews exist to help potential customers decide whether or not to read my book. If readers want to offer constructive feedback, they will email me, as they have in the past. I do look at ratings, though. I need to see ratings just to get a feel of how readers are reacting.
Does your family support your career as a writer?

Sure. Other family members are writers.
How long were you a part-time writer before you became a full-time one?

I've always been a full-time writer.
What does literary success look like to you?

Having a readership that genuinely loves your writing and is willing to support it. I was lucky enough to find that when I used to share my writing for free online. Now I'm tired of working hard for nothing. I have to eat too.
How many unpublished and half-finished books do you have?
What is your patronus / Howarts House / Ilvermorny House?

Lol. I swore to myself that I'd never reveal that I ever read the Potter books. My patronus would be a dragon . . . obviously. My house would be Ravenclaw because I value knowledge above all else.
What's the best way to market your books?

I wish there was a simple way to answer that. My first step is always to find people who read what I write, then point them in the direction of my book and hope they read it and review it. The second step is usually to get my book on promotional websites in front of the right audience. It helps if the book has reviews by this point. And we can't forget a kickass cover.
If you couldn't be an author, what would your ideal career be?

I love animals. I'd own a ranch.
Do you Indie Publish or Traditional Publish? Explain if you'd like.

Indie. It would take way too long to explain that. But ten years of rejections from agents is what did it.
Save
Save
Save
Save
Save